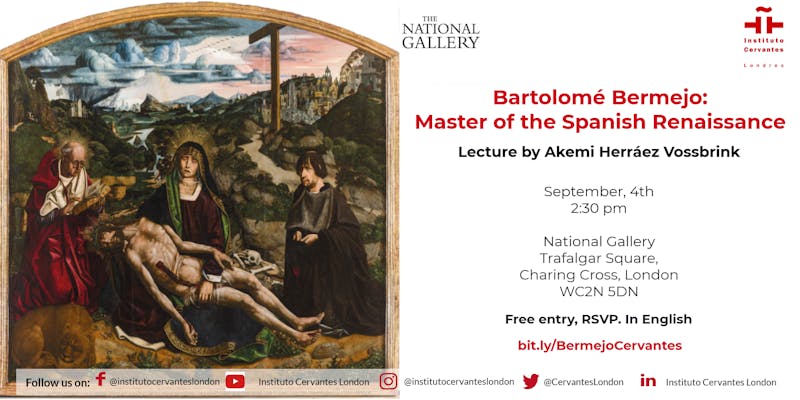 ARTES committee member Akemi Herráez Vossbrink, assistant curator of the exhibition "Bartolomé Bermejo. Master of the Spanish Renaissance" at The National Gallery, will give a lecture on the life and works of this Spanish painter.
Bartolomé Bermejo was a fifteenth-century Spanish artist whose painting technique, mixing Spanish and Netherlandish features, was unparalleled amongst his Iberian contemporaries. He had a limited output of less than twenty paintings of which seven are featured in the current National Gallery exhibition. This is the first time that six of these paintings are shown in the UK and the restoration of the National Gallery's painting of Saint Michael Triumphs over the Devil (1468) has enabled the Gallery to showcase Bermejo's earliest masterpiece. Following the two major Bermejo retrospectives at the Prado Museum and the MNAC (Barcelona), this exhibition features paintings ranging from different periods of Bermejo's career demonstrating his development as he moved throughout the Crown of Aragon (mostly encompassing territories in eastern Spain). This talk will focus on the seven paintings shown in the exhibition considering them within their context and retracing Bermejo's artistic career. Bermejo's Saint Michael, the Acqui Terme triptych and the Desplà Pietà (reproduced above), will receive special attention in the lecture, which will compare their donors, production, intended location and historical context.
This event is for a general audience and is organised by the Instituto Cervantes — London. Free, reistration required. Click here to register.